Wedding limousine rental |+201011322559
The wedding day is a momentous occasion that marks the union of two individuals embarking on a lifelong journey together.
It is a day filled with love, joy, and the promise of a beautiful future.
Every detail of a wedding is carefully planned to create a magical and memorable experience,
and one element that adds an extra touch of elegance is the choice of transportation.
Bedaya limousine rentals have become synonymous with sophistication, luxury, and style
transforming the journey from the ceremony into a glamorous and unforgettable experience.
Opting for a limousine as the mode of transportation not only exudes elegance
but also sets the tone for a glamorous event |+201011322559
The sleek and luxurious design of a limousine complements the grandeur of the occasion,
making a bold statement about the significance of the day.
Limousines serve as the perfect backdrop for capturing timeless and enchanting photographs.
The long, sleek body of a limousine creates a picturesque setting, enhancing the visual appeal of wedding photos.
Wedding limousine for rent ,Limousine rent services for weddings,Limousine rent companies for events
Limousine for weddings, Car rent for wedding parties, limousine rent prices |+201011322559
Wedding limousine rental service
Wedding limousine rentals are a great option for couples looking for a luxurious and elegant touch to their wedding.
Among these services provided by Bedaya Limousine Company are:
The service of transporting the newlyweds to and from the ceremony site is one of the basic services of wedding limousine rental companies
The professional driver provided a smooth experience and ensured that the newlyweds arrived on time.
You can rent a limousine of different sizes that can accommodate a certain number of people.
Allowing family and friends to enjoy a luxurious experience and share special moments on the go
The limousine can be decorated with fresh flowers or special occasion decor
Therefore, luxury limousines are distinguished by their spacious interior space, which makes them among the luxury cars in Cairo.
Therefore, you can also rent it for birthday parties, and it can also be rented for advertising, filming, photography, and events.
Luxury car rentals, car rentals for weddings, wedding cars for rent in Egypt, modern car rentals,
Renting cars for weddings, renting Mercedes cars, renting convertible cars, renting a convertible car,
|+201011322559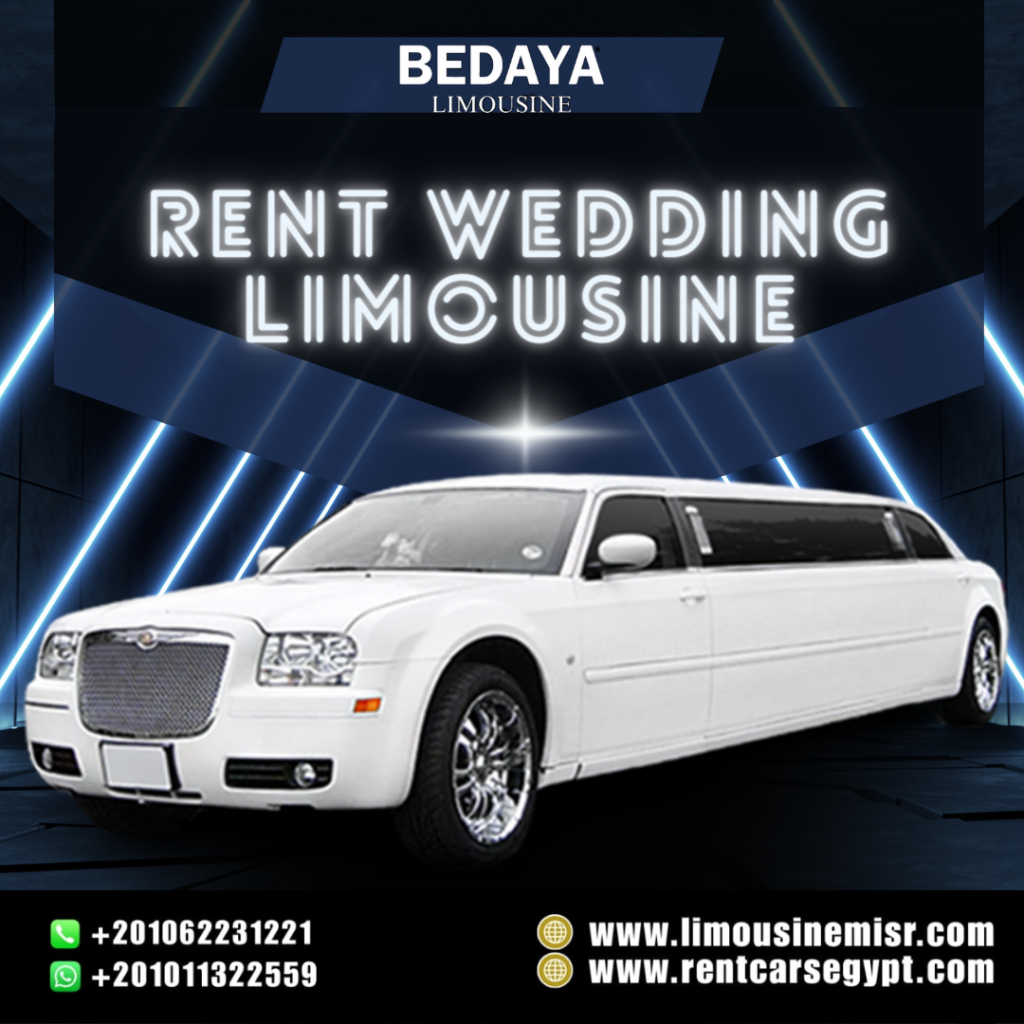 Rent limousine with a driver
Benefits of renting a wedding limousine with a driver
Comfort and safety: A trained and qualified driver ensures that the newlyweds reach their destination safely and on time
The driver also assumes full responsibility for driving the car and moving between different locations
Elegance and luxury: Limousines are considered one of the most luxurious and elegant means of transportation. It is a spacious and exceptionally designed car
Flexible Time: A wedding limousine rental service offers flexibility in time and schedule.
The newlyweds can specify the time they would like to use the limousine and the duration of the rental.
Wedding limousine rental with driver is an ideal option for newlyweds
Who want to add a touch of luxury and elegance to their wedding day. |+201011322559

It is a comfortable, personalized experience that leaves unforgettable memories.
Therefore, we work to provide all limousine models that suit your party
Wedding limousine rental prices,Limousine rental for a wedding,Limousine services for wedding parties
Wedding limousine rental, Luxury wedding car rental companies, Rent Limousine in Cairo
Luxury wedding car rental
The price of a limousine rental varies depending on the make and model, with luxury and modern limousines being more expensive.
The time the limousine will be used affects the cost. Short trips will be cheaper than long trips.
Wedding limousine rentals can be a great addition to those special moments
You can find the perfect limousine from Bedaya Limousine Company at prices that fit your budget and make your wedding day an unforgettable experience
Renting the most luxurious, elegant and modern limousines in Cairo
Therefore, Bidaya Limousine Company provides its customers with wedding and wedding cars at the cheapest and best price in Egypt.
You can also reserve your own car in the easiest way, and you can rent it from Cairo International Airport. |+201011322559
Therefore, luxury limousines are important for businessmen, so they can conduct their business in a luxury car, as well as wedding parties.
We work to provide tourism services and daily work with a driver in Cairo for up to 12 hours a day.
Luxury car services for weddings,Car rental for weddings,Car rental for special events
Car rental companies for wedding parties ,Luxury car rental for wedding, Wedding limousine rental

For reservations or inquiries, you can call us or contact us on WhatsApp on: +201011322559
Therefore, you can visit the company's website at: 12 El Hegaz Street, Heliopolis, Cairo Governorate
Thus, you can find out the working hours:
Saturday: from 9 am to 6 pm
Sunday: from 9 am to 6 pm
Monday from 9 am to 6 pm
Tuesday: from 9 am to 6 pm
Wednesday: from 9 am to 6 pm
Thursday: from 9 am to 6 pm