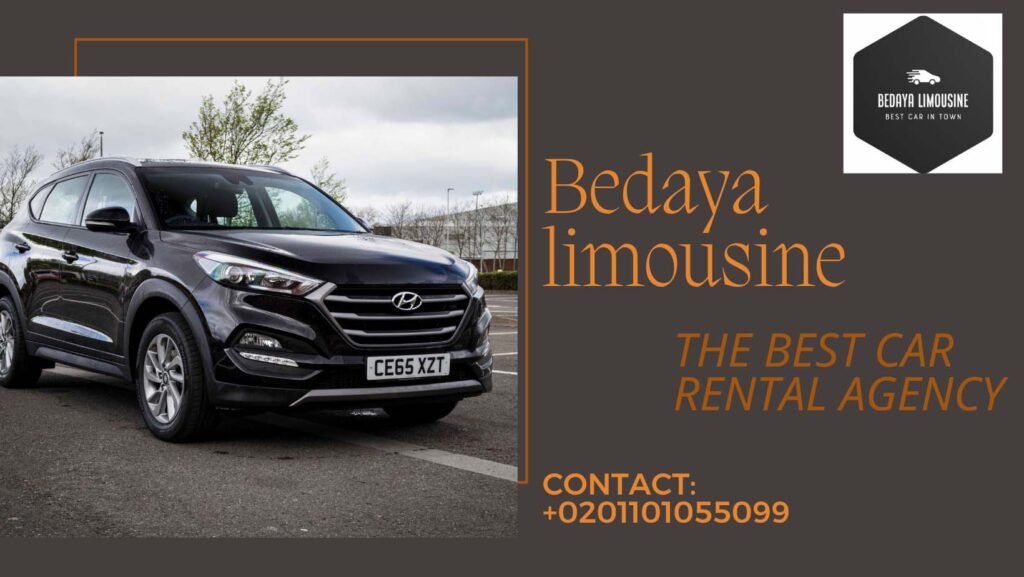 Egypt car rental
Tucson limousine rental from bedaya Limousine Company, you will find the best Hyundai Tucson 2021 rental offers, on the occasion of the end of this year 0201101055099
For luxury lovers, bedaya Limousine Company offers you a Hyundai Tucson car rental. SUV car rental from bedaya Limousine for all transfers inside and outside Cairo.
With the best tourist services and the lowest prices.
Therefore, bedaya limousine, Tucson Hyundai offers you the lowest price for renting a car in Egypt
Thus, it offers the largest fleet of Hyundai Tucson 2022 cars.
Hyundai Tucson 2022 for daily rent, pay now with bedaya Limousine Company, and guarantee safe and comfortable daily transfers.
You can rent a Tucson car for reception from all airports and delivery to hotels with the easiest and fastest procedures.
Our reservation features are that you can book only 24 hours before your flight. Book now
With bedaya Limousine Company, we offer you many options, so it is easy for you to choose your car.
We have a large and varied fleet of cars to suit customers' requirements and aspirations in renting cars in Egypt.
cheapest car rental,exotic cars,100 rental cars,car rental hacks,rental,tranz renta cars,how to rent cars on turo,rental cars tips
Tucson limousine rental daily
Hurry up to rent a Hyundai Tucson at the lowest price and with the best service now with the most powerful car rental company in Egypt
Available for renting a Hyundai Tucson 2021 for daily rent, and renting a Hyundai 2021 for weekly and monthly rent for companies and individuals.
Limousine bedaya provides you with distinguished reception services for those returning from travel at Cairo Airport.
Delivery services are available to hotels and residences anywhere in Egypt. We also have a Hyundai Tucson with a driver for all transfers from the airport and outside Cairo.
Your transfers in Cairo are now easier and therefore faster with bedaya limousines
Where we provide you with a Tucson car rental with a skilled driver and driving experience
As well as a high degree of tact and professionalism in dealing.
Rent the highest categories of Hyundai Tucson for your tours inside Cairo, whether personal rides or business tours, and therefore entertainment transfers.
car rental tips,rental cars for sale,rental cars for uber,rental car business,renting cars on turo,rent a
cars,car rental secrets,discount car rental
Monthly car rental Cairo
Rent a Tucson car with a driver from bedaya Limousine for all your transportation, for any rental period you need, we have all kinds of SUV cars.
Rent a Hyundai Tucson 2022 per month without a driver at the cheapest price with bedaya Limousine Company in Egypt.
Hyundai Tucson rent in Egypt for the services of businessmen residing in Egypt, as well as those arriving to us
From all Arab countries to meet all the transport services they need for any rental period.
Distinguished monthly prices provided by bedaya Limousine Company, which is considered one of the best car rental companies with a monthly period, at the best Tucson limousine rental rates.
The limousine of bedaya Limousine Company is one of the companies that offer suitable prices that do not accept competition and are suitable for all categories of customers
bedaya Limousine Company also provides many other services that facilitate all transportation for the customer during his stay in Egypt.
Our prices are competitive and economical to suit all categories. There are all kinds of cars, model year, van, sedan and Mercedes
Tucson car rental price 2022
Rent a Hyundai 2019 and enjoy exclusive discounts that extend until the end of the year on Hyundai Tucson when renting it with a driver.
Discounts for a limited time on all categories of our Tucson cars, which reach 35%
One of the services that we offer you at bedaya Limousine Company is travel service between governorates with high quality
And discounted prices as it provides you with your own chauffeured limousine
Through which you can travel between the governorates without enduring the trouble and hardship of traveling and driving.
We provide you with a safe, comfortable and distinctive travel service.
Tucson limousine rental prices in Egypt 2021 for transfers outside Cairo start at fantastic prices with the best car rental prices in Egypt.
Hurry up and rent your Tucson car now from bedaya Limousine with the best car rental procedures.
You will find our special prices on all car rental services.
With bedaya Limousine Company, book with peace of mind.
rental cars,car rental,how to rent a car,cars,turo car rental,rent a car,rental car,turo car rental business,cheap rental cars,car rental business
Necessary information before renting a limousine
When renting a car, the customer searches for a car showroom that provides him with more various benefits
In price, car model and rental period.
And we at bedaya Limousine have all these features, so do not hesitate and book with us now
The best car rental service you can find.
The Hyundai Tucson is characterized by many features and distinctive specifications of the SUV Tucson 2022.
bedaya Limousine provides you with the best SUV car rental service inside Egypt at the best prices.
We guarantee you commitment to appointments and agreements. Book with us now.
Available for renting a Hyundai Tucson 2019, Hyundai Tucson 2020, Hyundai Tucson 2021, Hyundai Tucson 2022 in Egypt
Therefore, Hyundai Tucson can be rented for business services, as well as Hyundai Tucson 2022 for Egyptians, foreigners, and VIP visitors.
we provide you with a Tucson car rental with drivers at the highest level of experience
Therefore, all Hyundai Tucson drivers are fully aware of all roads inside and outside Cairo.
We also provide you at bedaya Limousine Company for renting a Tucson car without a driver for the residents of Cairo.
How to rent a car in Egypt
bedaya Limousine provides Tucson car rental service with driver in Egypt
In different ways and a variety of style in terms of supply and price in the car.
We have various booking methods available. You can book by paying an amount at our office in Nasr City
Or you can book online by bank transfer to the CIB account from any bank in the Arab world.
We have reservations available via instant booking on Etisalat Cash from any Egyptian number or instant machine from anywhere.
Now, renting a VIP limousine has become easier.
With bedaya Limousine, you can book your car wherever you are
From all over the world through the company's customer service, whether by telephone
Or WhatsApp service or contact us via Facebook.
bedaya Limousine is one of the leading limousine companies in Egypt
We offer a full range of limousine services, airport limousine services, provincial limousine services, and wedding limousines
also provide you with buses and private cars for transfers inside and outside Cairo at competitive prices that do not accept competition
We provide our services with the latest types of cars, model year, with a group of well-trained drivers
On the best roads, driving quality and handling in various conditions.
If you are looking for an experienced and highly qualified limousine company, bedaya Limousine
It is the most suitable choice for you in terms of accuracy in time and quality of service, and therefore prices that suit your needs
For reservations and inquiries: 01101055099
WhatsApp service is available
Working hours: from Saturday to Thursday (from 9 am to 6 pm)